Last year the disquieting images of Felix Vallotton filled the Sackler Gallderies of the Royal Academy of Arts (read ArtMuseLondon's review here). This spring, another little-known artist, Belgian Léon Spilliaert is represented, in this the first major exhibition of his work in the UK.
Like Vallotton world, Spilliaert's is unsettling, but for different reasons. Plagued by insomnia and a painful stomach condition, Spillaert would pace the streets of his home town, Ostend, and return home to his easel to recreate what he saw, and what he imagined, in curious, unsettling muted tones of blue, grey and brown, shot through with strange lighting effects.
Spilliaert's gloomy sensibility perfectly matched the artistic and literary scene of his age, an era dominated by ansgt and isolation. He collaborated with the symbolist poets, and their texts and the moods and feelings they evoked fed the imagination of morose artist. Spilliaert's work, mostly rendered in ink on paper, is quietly poetic, atmospheric, pregnant with meaning.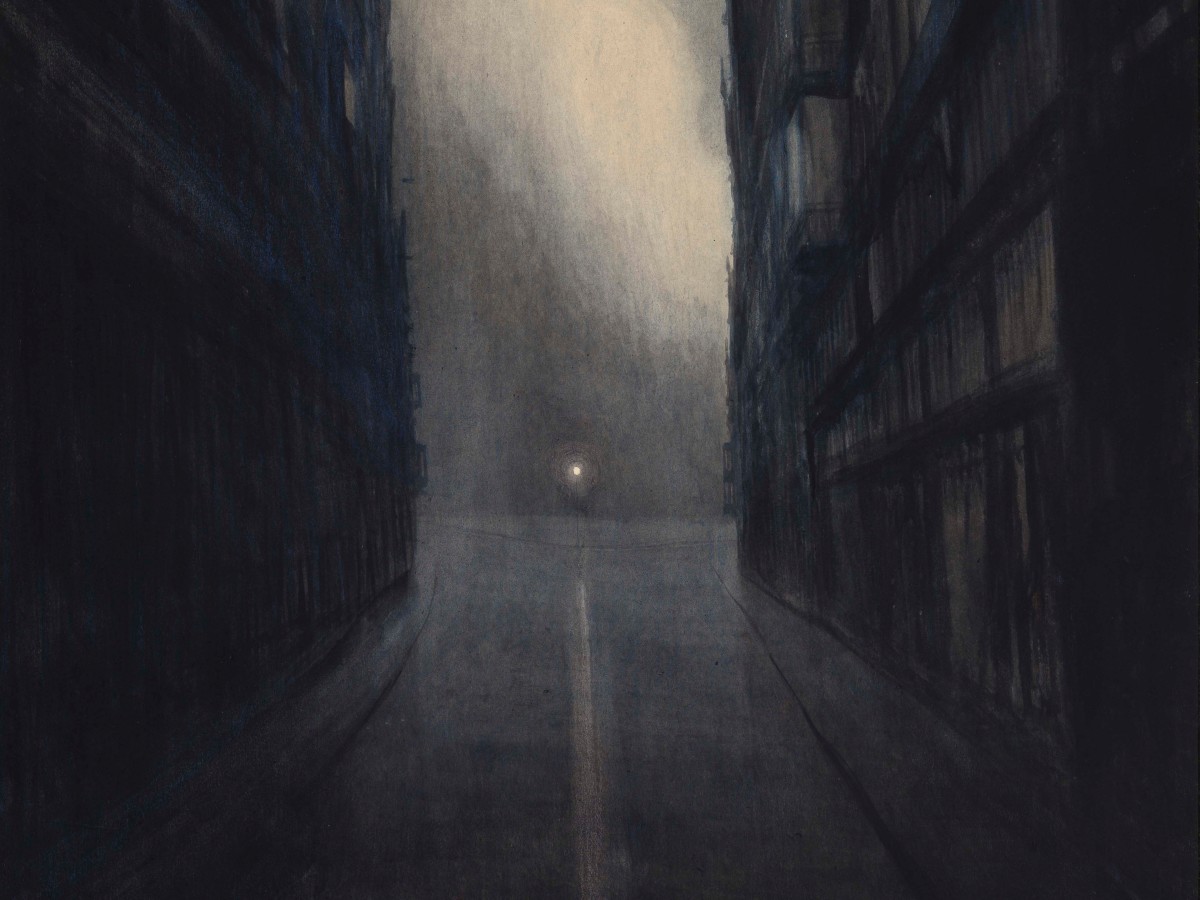 In his self-portraits he stares back at us, a ghostlike presence in a darkened room, redolent of Munch's The Scream, white-rimmed piercing eyes glowing in the gloaming which speak of sleeplessness and pain. And while his compatriot and fellow artist James Ensor portrayed Ostend as a bustling chaotic seaside town, Spilliaert portrayed it as a desolate place of looming, queasy perspectives, shadows, sea mist and moonlight, and the occasional beam of a lighthouse. In his landscapes, a few skeletal figures or trees do little to relieve the starkness, and his predeliction for a palette mostly composed of dark marine blues and greys only further emphasises the solitariness of these places.
Yet there is something compelling about those chilly empty landscapes, the concentrated staring eyes, the lonely fisherman's wives, outlined in strangely bilious tones, anxiously waiting by the window, and this exhibition is a must-see for anyone with an interest in the work of artists such as Munch, Hammershoi and Schjerfbeck, and Symbolist art in general.
---
Until 25 May at London's Royal Academy of Arts
FW
Header image:
Léon Spilliaert, Self-portrait, 3 November, 1908.
Indian ink wash, brush, coloured pencil, pastel and Conté crayon on paper. 49.7 x 65.1 cm. Private collection.